Once Upon Yet Another Time LIFELOCK Receives 5 STARS For It's Job-Well-Done Protecting Real People In The Digital Age.
This review AND this review concur.
Like 1st, 2nd, and 3rd place you can take you place with LifeLock in three tiers of services: LifeLock Standard™, LifeLock Advantage™, and the LifeLock Ultimate Plus™ protection.  The coverage includes but is not limited to: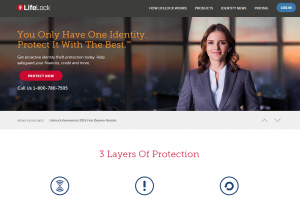 Identity Theft Detection & Alerts and Pre-Approved Credit Offer Reductions †
Credit Report Access (Experian, TransUnion & Equifax) With LifeLock Ultimate Plus™ Protection
Black Market Website Surveillance
Lost Wallet Protection
Imagine your world as a playground and all the equipment is yet another way you can be digitally or actually robbed, inconvenienced and used.
Slide – Lose your wallet.  The wrong person picks it up; identity stolen.  Forget losing the actual cards from your wallet.
Swings – Someone with the right machine can clone the card with numbers hacked from any where you have ever purchased something.
Tire Swing – The computer is a garden for an identity thief to plant malware, spyware, viruses.
Money Bars – Trash bins are a garden for some hungry raccoon to eat from or an identity thief to take your mail; get a library card or create a Comcast account at their cousin's house with your information.
Teeter-Totter – How about your mini-hand-held computer with everything about you on it — smart phone.
The Field – Now put the stuff aside.  Just your name is steal-able.  With fake ads, false job postings, articles posted that you didn't write with opinions you do not have!  What then!?
How annoying to consider.  All this and more is insured for you by LifeLock.
If kids are going to push on the playground, we will have playground aides at lunch and teachers taking turns at recess.  If we are going to have so much information amassing about each one of us, there's going to be some bully wanting to use it for their personal gain and Life Lock is the best "lunch lady" for you to run to.   Let's not do a "If you cannot beat 'em – join 'em".  Not with this.  If we can't beat identity thieves, let's protect ourselves.
Peace of mind is priceless, absolutely, and funny, you can pay for that with LIFE LOCK.
No one can prevent all identity theft.
† Network does not cover all transactions.
* At the end of the 30-day trial period, your card will be billed automatically ($8.99mo/$98.90yr for LifeLock Standard™ service or $17.99mo/$197.90yr for LifeLock Advantage™ service or $26.99mo/$296.90yr for LifeLock Ultimate Plus™ service.  All pricing excludes applicable sales taxes.) unless you cancel withing the 30-day trial period.  You can cancel anytime without penalty by calling 1-800-LifeLock. Offer is for new LifeLock members only.