Picture this: You're driving down the highway, and it's a hot, summer day. I'm going to paint a picture for you. Let's say it's a record high that week, and it's 95 degrees. The sun is glaring through your windshield, windows down. You're on your lunch break from work and you start to hear a noise you prayed you would never hear before. Sudden whines and coughing from the engine in front of you, smoke starts to rise. This is a nightmare in the making. You're running out of time on your precious lunch break, and you don't want to be late getting back to work again! If only you had some way of contacting someone who could get you out of sticky situations just like that…hold on. Wait a second…you can! If you ever have any trouble with vehicles, having roadside assistance can change your life.
What Do I Get Out of Roadside Assistance?
It's simple, really. You receive responsive and reliable service for your automotive troubles. It's easy to contact someone who is reliable and knowledgeable, that can help you in your time of need. Three main things always come up when vehicles issues arise. "How can I be sure someone will actually be there to talk to me, and it wont be some robot?" "I need to tow my car somewhere, but I don't want to get charged for just a few miles." Finally, "My car is 100%, completely busted, and I cant drive anywhere, but I need a ride." Luckily, having roadside assistance can fix all of these issues at once!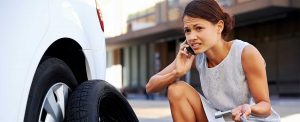 24 Hour Roadside Assistance – 24/7 availability means you can contact someone for help day or night. The last thing you want is to be stuck on the side of the road.
Towing – Tow trucks can be ridiculously expensive. With roadside assistance, you can get a service vehicle sent to you to tow your car away for up to 100 miles! That's right. 100!
Rental Cars –  Your car just stopped working completely? A

rental car can be sent to you

so you don't have to be without a vehicle. Talk about convenience.
Stressing about your car and the things that can go wrong is now a thing of the past. Roadside assistance brings ease and simplicity back into driving, the way it should be.
To sign up for roadside assistance, click here!